Lithuanian callendar of events. Create Yours account - add events, make Yours oun callendar, adds events to watch list, make notes, check registration dates and help Your bussiness to grow. Follow our Facebook accounts and get life information.
For orgasits putting event to callendar - total free.

Uodo Šeimos Turgelis Šiauliuose
Šiaulių Arena, J. Jablonskio gatvė, Šiauliai, Lithuania, Šiauliai
08.02.2020
10:00 - 14:00
PIRKITE, PARDUOKITE, MAINYKITE, DOVANOKITE, BENDRAUKITE, PRAMOGAUKITE SU ŠEIMA !!

Uodo Šeimos Turgelyje jūsų laukia:
- drabužiai, avalynė ir aksesuarai visai šeimai;
- prekės vaikams, žaislai, vaikiška technika;
- rankdarbiai, smulkmenos buičiai ir namams;
- prekės grožiui ir sveikatai;
- ir viskas ko gali prireikti kiekvienai šeimai :)

Įėjimas NEMOKAMAS, nes šypsena nieko nekainuoja :)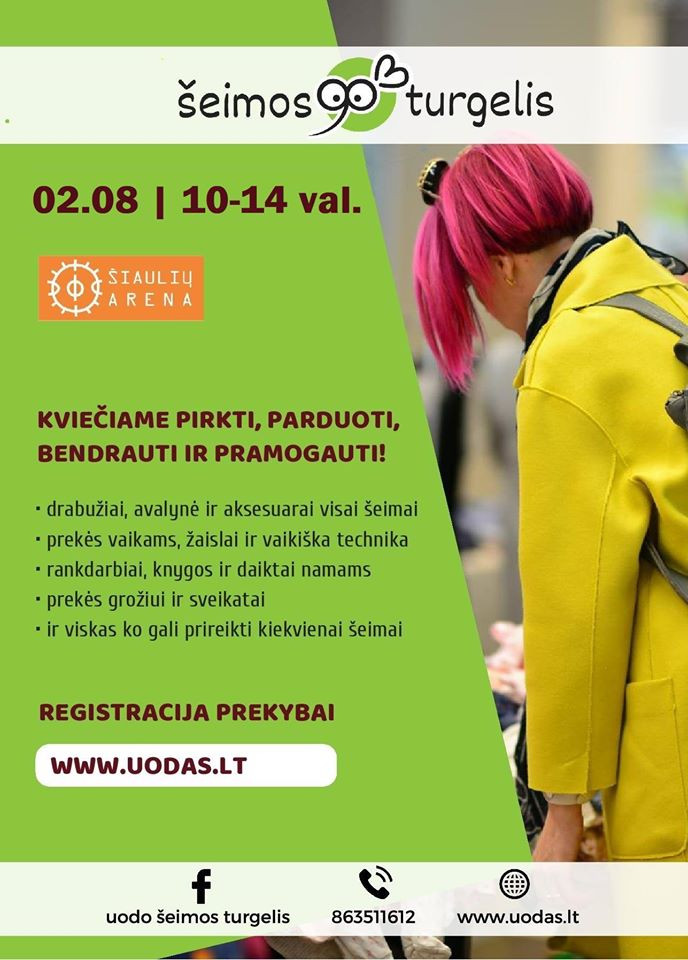 Trader Information
Prekiauti galima asmeniniais, nebenaudojamais savo šeimos daiktais: vaikų ir suaugusiųjų drabužiais, avalyne, žaislais, vaikiškomis prekėmis, smulkmenomis namams, knygomis ir rankdarbiais.
REGISTRACIJA PREKYBAI:
www.uodas.lt

PREKYBOS VIETA IR INVENTORIUS:
Prekeiviui suteikiama pusė stalo (plotas 0,8-1m x 1 m), kėdė ir vieta prie stalo (~1m) papildomam inventoriui pasistatyti.
Dėl prekybos asmeniniais šeimos daiktais teirautis:
Tel.: +370 635 11612, el.paštu:
[email protected]
Dėl komercinės prekybos ir reklamos turgelių metu teirautis:
Tel.: +370 608 69269, el.paštu:
[email protected]
Registration Dates
13.01.2020 - 07.02.2020
Company Information:
| | |
| --- | --- |
| 15.1 Company | Uodas.lt |
| Address | Jurginų 59, Ringaudų km, Kauno raj., LT-53331 |
| Phone | +37063511612 |
| Company Website | http://www.uodas.lt |