Estonian callendar of events. Create Yours account - add events, make Yours oun callendar, adds events to watch list, make notes, check registration dates and help Your bussiness to grow. Follow our Facebook accounts and get life information.
For orgasits putting event to callendar - total free.
Tori Suvelaat
Pärnu maantee 4, Tori, 86801 Pärnu maakond, Eesti
14.07.2019
10:00 - 14:00
Kutsume teid IX suvefestivali TORI ÖÖD JA PÄEVAD raames toimuvale SUVELAADALE kauplema, ostma, müüma, vahetama!
Laat toimub Tori aleviku keskväljakul pühapäeval, 14. juulil kell 10:00 – 14:00.
Laadalaval erinevad etteasted!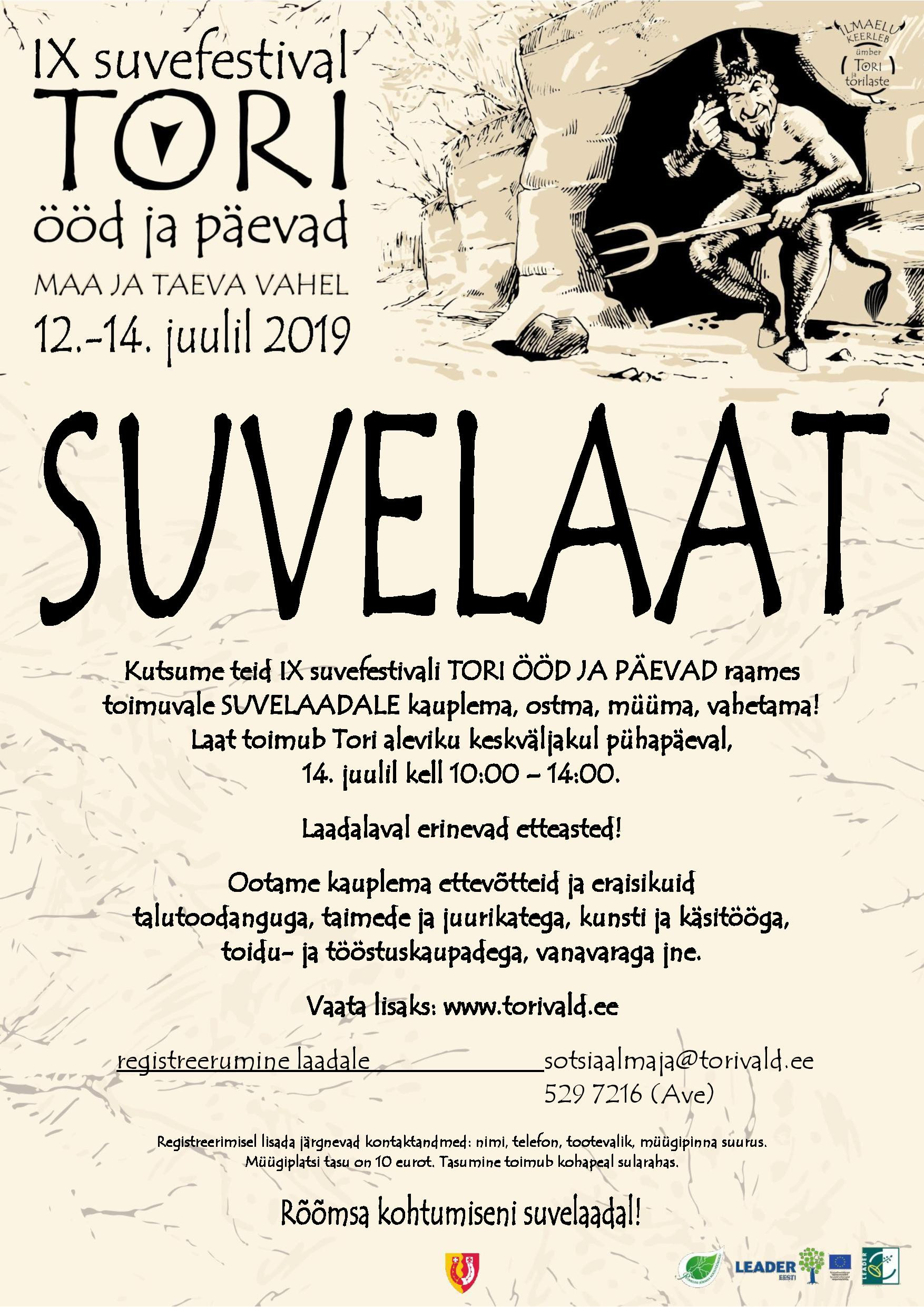 Trader Information
Ootame kauplema ettevõtteid ja eraisikuid talutoodanguga, taimede ja juurikatega, kunsti ja käsitööga, toidu- ja tööstuskaupadega, vanavaraga jne.
Vaata lisaks: www.torivald.ee

registreerumine laadale
[email protected]
529 7216 (Ave)
Registreerimisel lisada järgnevad kontaktandmed: nimi, telefon, tootevalik, müügipinna suurus.
Müügiplatsi tasu on 10 eurot. Tasumine toimub kohapeal sularahas.
Registration Dates
26.06.2019 - 13.07.2019
Company Information:
| | |
| --- | --- |
| 15.1 Company | Tori Vallavalitsus |
| Address | Pärnu mnt 12, Sindi, Tori vald 86705 Pärnu maakond |
| Phone | 5297216 |
| Company Website | www.torivald.ee |