Lithuanian callendar of events. Create Yours account - add events, make Yours oun callendar, adds events to watch list, make notes, check registration dates and help Your bussiness to grow. Follow our Facebook accounts and get life information.
For orgasits putting event to callendar - total free.

"Susitikime Penktadienį"
Panevėžys, Lietuva, Panevėžys
12.07.2019
10:00 - 23:00
DĖMESIO!!! SVARBI ŽINIA!!!

📢

📢

📢


"Susitikime penktadienį" renginiai, liepos mėnesį, keliasi į unikaliąją Senvagę.
Varinių pučiamųjų instrumentų orkestrų festivalio "Dūdų vasara" koncertų vieta nesikeičia. Koncertai ir toliau vyks Laisvės a., prie Galerijos XX.
Dalinamės ir laukiame visų jau Senvagėje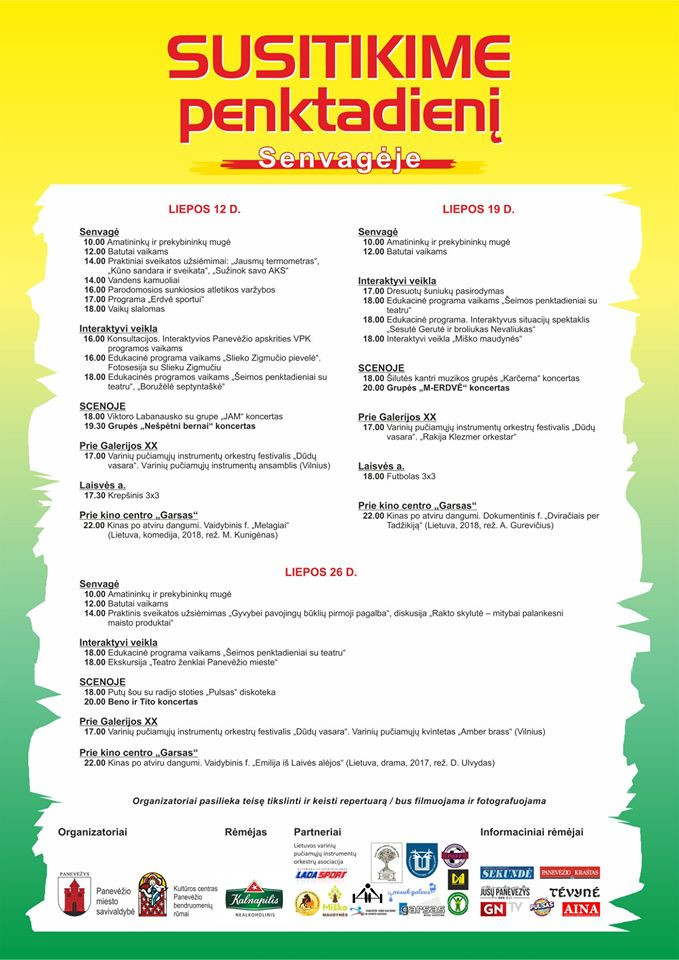 Trader Information
Liepos 12 d.; 19d.; 26 d.
Company Information:
| | |
| --- | --- |
| 15.1 Company | Panevėžiomiestosavivaldybė; Panevėžio bendruomenių rūmai |
| Address | Laisvės a.20, Kranto g.28, Panevėžys |
| Phone | (845) 501494; (8-45) 460635 |