Latvian callendar of events. Create Yours account - add events, make Yours oun callendar, adds events to watch list, make notes, check registration dates and help Your bussiness to grow. Follow our Facebook accounts and get life information. For orgasits putting event to callendar - total free.
Rudens Svētku Gadatirgus
Raiņa parks, Raiņa iela, Jelgava, Latvija, Jelgava
20.09.2020
10:00 - 16:00
LV
Stendi: 3 x 3 m2
Cena: 35 EUR
Rezervācija: https://myexpo.lv/event/rudens-svetku-gadatirgus-jelgava/
Īpaši gaidīti ir tirgotāji no Latvijas, Lietuvas, Igaunijas, Ukrainas, Baltkrievijas, Polijas, Vācijas, Zviedrijas un citām kaimiņvalstīm!
Gadatirgū var tirgot: apģērbus, apavus, preces skolēniem un skolai, somas, makus, keramiku, lina izstrādājumus, vilnas rokdarbus, kokgriezuma izstrādājumus, mājas tekstilu, suvenīrus un dāvanas, bezalkoholisko un alkoholisko alu, žāvētu gaļu un zivis, sieru un siera izstrādājumus, maizi, speķa pīrādziņus, citus miltu izstrādājumus, saldumus, vafeles, konfektes, tēju, kafiju, garšvielas, riekstus un īpaši pagatavotus dārzeņus, un augļus (konvertēti, žāvēti), vaigus augļus un dārzeņus (no zemnieku saimniecībām)
Papildus informācija:
E: [email protected]
T: + 371 26887800
LT
Stendai: 3 x 3 m2
Kaina: 35 EUR
Rezervacija: https://myexpo.lv/lt/event/rudens-svetku-gadatirgus-jelgava/
Ypač laukiame prekybininkų iš Latvijos, Lietuvos, Estijos, Ukrainos, Baltarusijos, Lenkijos, Vokietijos, Švedijos ir kitų kaimyninių šalių.
Galite parduoti: Drabužiai, Avalynė, Daiktai studentams ir mokyklai, Krepšiai, piniginės, Keramikė, Lininiai gaminiai, Rankdarbiai iš vilnos, Medžio pjaustymo gaminiai, Namų tekstilė, Suvenyrai ir dovanos, Nealkoholinis ir alkoholinis alus, Džiovinta mėsa ir žuvis, Sūris ir sūrio produktai, Duona, lašinių pyragaičiai, kiti miltiniai produktai, Saldainiai, vafliai, saldainiai, Arbata, kava, prieskoniai, Riešutai ir specialiai paruoštos daržovės ir vaisiai (perdirbti, džiovinti), Švieži vaisiai ir daržovės (iš fermų)

Daugiau informacijos ir užsakymas:
E: [email protected]
T: + 371 26887800
RU
Стенды: 3 х 3 м 2
Цена: 35 евро
Бронирование: https://myexpo.lv/ru/event/rudens-svetku-gadatirgus-jelgava/

Особенно мы ждем торговцев из Латвии, Литвы, Эстонии, Украины, Белоруссии, Польши, Германии, Швеции и других соседних стран.
Можно продавать: Одежда, Обувь, Товары для школьников и для школы, Сумки, кошельки, Керамика, Льняные изделия, Шерстяные изделия ручной работы, Домашний текстиль, Сувениры и подарки, Безалкогольное и алкогольное пиво, Капчоное мясо и рыба, Сыр и сырные продукты, Хлеб, пирожки, другие мучные изделия, Сладости, вафли, конфеты, Чай, кофе, специи, Орехи и специально приготовленные овощи и фрукты (перемолотые, сушеные), Свежие фрукты и овощи
Дополнительная информация:
Э-почта: [email protected]
Т: + 371 26887800
ENG
Stands: 3 x 3 m2
Price: € 35
Reservation: https://myexpo.lv/en/event/rudens-svetku-gadatirgus-jelgava/
Welcome traders from Latvia, Lithuania, Estonia, Ukraine, Belarus, Poland, Germany, Sweden and other neighboring countries.

You can sell: Clothing, Footwear, Items for students and for school, Bags, purses, Ceramic, Linen products, Wool handicrafts, Woodcut products, Home textiles, Souvenirs and gifts, Non-alcoholic and alcoholic beers, Dried meat and fish, Cheese and cheese products, Bread, bacon patties, other flour products, Sweets, waffles, candies, Tea, coffee, spices, Nuts and specially prepared vegetables and fruits (converted, dried), Fresh fruits and vegetables (from farms)
Additional information:
E: [email protected]
T: + 371 26887800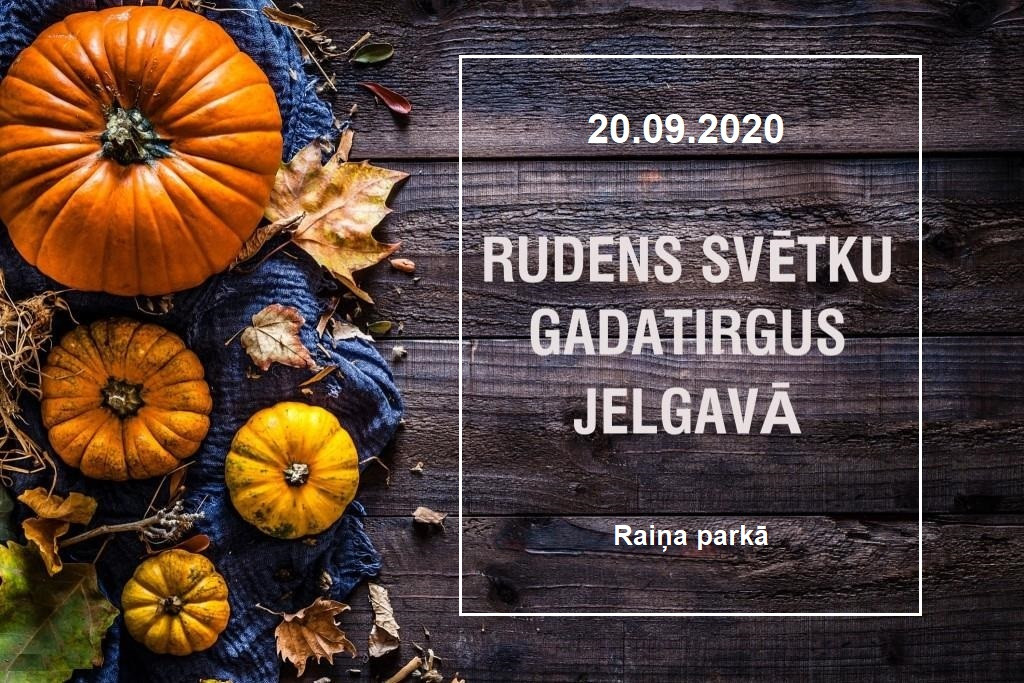 Registration Dates
02.02.2020 - 19.09.2020
Company Information:
| | |
| --- | --- |
| 15.1 Company | Sweet Travel Latvia, SIA |
| Address | BALTĀ 19-61 |
| Phone | +371 26887800 |
| Company Website | www.myexpo.lv |