Estonian callendar of events. Create Yours account - add events, make Yours oun callendar, adds events to watch list, make notes, check registration dates and help Your bussiness to grow. Follow our Facebook accounts and get life information.
For orgasits putting event to callendar - total free.
"Luige Vanavara- Ja Käsitöölaat 2020"
Luige Näituseväljak, Luige, Harju apskritis, Estija, Luige
01.08.2020
09:00 - 16:00
Luige vanavara- ja käsitöölaat toob kokku inimesed, kes peavad lugu käsitööst, kes armastavad oma kodusisustuses ära kasutada põnevaid detaile, kes kollektsioneerivad midagi, kes huvituvad vanavarast, kes tahavad perega veeta mõnusalt aega, kes mõtlevad roheliselt ja on taaskasutuse usku. Laadalt ei puudu kodumaine talukaup, mitmekesine toiduvalik, tegevused lastele. Üritus kestab 9.00. - 16.00.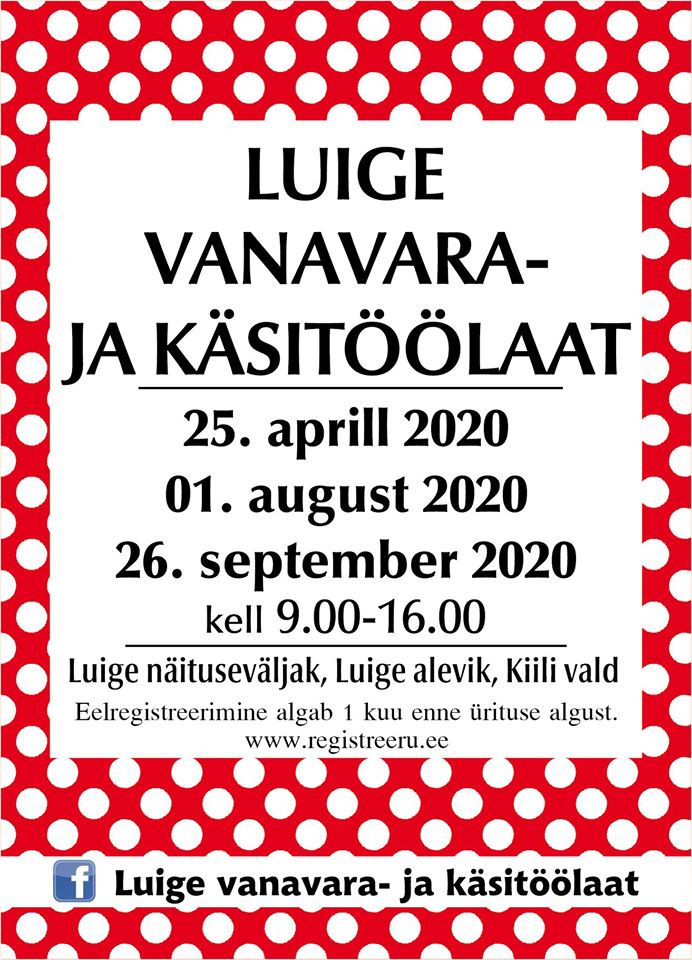 Trader Information
Kauplejate eelregistreerimine algab 1 kuu ennem ürituse algust, www.registreeru.ee Lisainfo:
[email protected]
, tel. 53996098 Rene. FB: Luige vanavara-ja käsitöölaat.