Latvian callendar of events. Create Yours account - add events, make Yours oun callendar, adds events to watch list, make notes, check registration dates and help Your bussiness to grow. Follow our Facebook accounts and get life information. For orgasits putting event to callendar - total free.
Lietu Tirgotava
Lietu Tirgotava, Ādaži, Ādažu novads, Latvija, Ādaži
04.05.2019
09:00 - 17:00
Tirgus norisinās katru sestdienu no 9.00-17.00. Jūs varēsiet nopirkt vai pārdot retro lietas, mēbeles, interjera priekšmetus, saimniecības lietas, bērnu rotaļlietas, apģērbu u.t.t.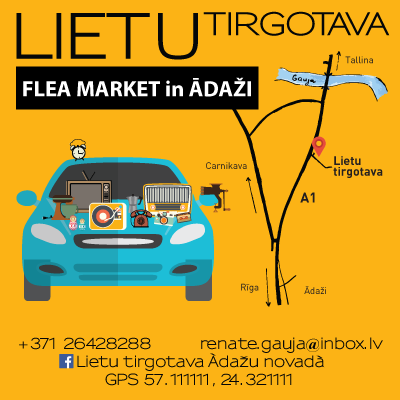 Trader Information
Katru sestdienu no pl. 9:00-17:00 Ādažos, Kārklu iela 1 (A1 šosejas malā pie tilta pār Gauju),
Lietu tirgotava - krāmu tirgus bez kultūras pasākumiem.
Tirdzniecība ar lietotām mantām, amatnieku, zemnieku, mājražotāju izstrādājumi.
Iekārtošanās no pl. 8:00.
Kontaktinformācija: talr.: +371 26428288
e-pasts:
[email protected]
Organizē: SIA "Taču būda"
facebook: Lietu Tirgotava Ādažu novadā