Latvian callendar of events. Create Yours account - add events, make Yours oun callendar, adds events to watch list, make notes, check registration dates and help Your bussiness to grow. Follow our Facebook accounts and get life information. For orgasits putting event to callendar - total free.
Lauku Labumu Tirdziņš Balvos
Brīvības iela 61, Balvi, Balvu pilsēta, Latvija, Balvi
14.09.2019
09:00 - 15:00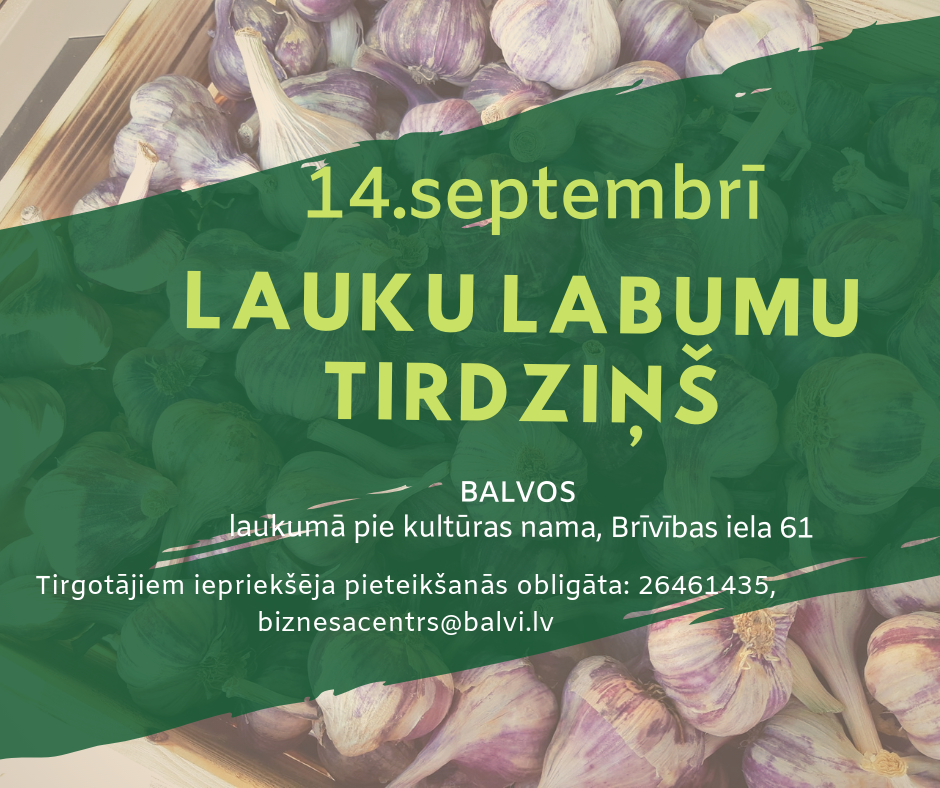 Trader Information
Balvos, laukumā pie Balvu Kultūras un atpūtas centra (Brīvības iela 61) tradicionālais lauku labumu jeb "zaļais" tirdziņš.
Katram mēneša otrajā sestdienā, no plkst. 9:00-15:00, tirgotājiem jāierodas no 07:00.
Piedalīties aicina vietējos zemniekus, amatniekus un mājražotājus.

Tirgotājiem iepriekšēja pieteikšanās obligāta līdz 12. septembrim.
Facebook.com/BalvuNovadaTic
Company Information:
| | |
| --- | --- |
| 15.1 Company | Balvu novada pašvaldības Ziemeļlatgales biznesa un tūrisma centrs |
| Address | Vidzemes iela 2b, Balvi, Balvu novads, LV-4501 |
| Phone | +371 26461435 ; +371 29272948 |
| Company Website | www.zlbc.lv |