Latvian callendar of events. Create Yours account - add events, make Yours oun callendar, adds events to watch list, make notes, check registration dates and help Your bussiness to grow. Follow our Facebook accounts and get life information. For orgasits putting event to callendar - total free.
Latviabeerfest2019
Vērmanes dārzs, Tērbatas iela, Centra rajons, Rīga, Latvija, Rīga
22.05.2019 - 26.05.2019
14:00 - 23:00
LATVIABEERFEST – vibrancy, an exciting adventure and a real beer festival in the heart of Riga City, namely, in Vermane Garden between 22nd and 26th May!
The largest beer festival in the Baltic States LATVIABEERFEST 2019:
TRADITIONS, where the only variable is the increasing variety and improved quality. For the 9th year in a row, Latviabeerfest opens the summer season with truly authentic Latvian flavours, vigorous tunes and the joy of coming together!
THOUSANDS OF CHEERFUL VISITORS, who never miss out on the first summer festival. We are proud that 70% of our guests come from both, close neighbouring countries and very remote places in the world!
BEER VARIETY and A PARADISE FOR BEER LOVERS. The festival brings together the best of craft beers presented by nearly fifty breweries, which offer to taste several hundreds of flavours and aromas.
VARIETY OF FOODS. Catering and food options are ensured by professional chefs and catering experts.
THE JOY OF MUSIC. Every day various musicians and bands fill the festival atmosphere with energy and joy.
KIDS CORNER – organized activities for the little ones and peace of mind for their parents.
BEER FM STUDIO with the latest news, competitions and entertaining musical program.
SPORTING CHALLENGES for the brave and the strong!
SECURITY – invisible but ever-present manned guarding which turns Vermane Garden into possibly the safest place in Riga for five days.
If you apply for participation in the festival, you will gain:
RECOGNITION – promotional opportunity in the heart of Riga City for five consecutive days, while serving a very wide and diverse target group;
RESONANCE – a unique opportunity to organize an event and use the publicity of this event;
REASONABLE PRICE and an option to choose the most favourable location for your stall at the festival venue.
LATVIABEERFEST 2019 KOPĀ GARŠĪGĀK, DZIRKSTOŠĀK, KOŠĀK!
LATVIABEERFEST - emocijas, aizraujošs piedzīvojums un īsteni alus svētki pašā Rīgas centrā - Vērmanes dārzā no 22. līdz 26. maijam!
Baltijā lielākais alus festivāls LATVIABEERFEST 2019 :
TRADĪCIJAS, kur vienīgais mainīgais ir pieaugoša daudzveidība un kvalitāte. Jau 9 gadus Latviabeerfest atklāj vasaru ar īsteni latviskām garšām, enerģiskiem mūzikas ritmiem un kopā būšanas prieku!
TŪKSTOŠIEM LAIMĪGU APMEKLĒTĀJU, kuri ik gadu apmeklē pirmo vasaras ieskaņas festivālu. Mēs lepojamies, ka ap 70% viesu šurp brauc no tuvām un tālām ārzemēm!
ALUS DAUDZVEIDĪBA un OĀZE VĪNA CIENĪTĀJIEM. Festivālā labāko piedāvā pussimts darītavu, ļaujot iepazīt vairākus simtus garšu un aromātu.
MALTĪŠU DAŽĀDĪBA. Par vēderpriekiem rūpējas īsteni ēdināšanas eksperti.
EMOCIJU FESTIVĀLS MŪZIKĀ. Katru dienu enerģiju uzlādē vairākas muzikālās apvienības.
BĒRNU PILSĒTIŅA - mazo pieskatītām nodarbēm un vecāku sirdsmieram.
BEER FM STUDIJA ar aktuālākajām ziņām, konkursiem un relaksējoši izklaidējošu muzikālo programmu.
SPORTISKI IZAICINĀJUMI drosmīgajiem un varošajiem!
DROŠĪBA - nemanāma, bet visur klātesoša apsardze Vērmanes dārzu uz piecām dienām pārvērš par, iespējams, drošāko vietu Rīgā.
Piesakot savu uzņēmu dalībai festivālā, jūs iegūsiet:
ATPAZĪSTAMĪBU – reklāma pašā Rīgas centrā, piecas dienas, plaša un daudzšķautņaina auditorija;
REZONANSI – unikālu iespēju radīt notikumu un izmantot pasākuma publicitāti;
SAPRĀTĪGU CENU un iespēju izvēlēties sev tīkamāko vietu festivāla teritorijā;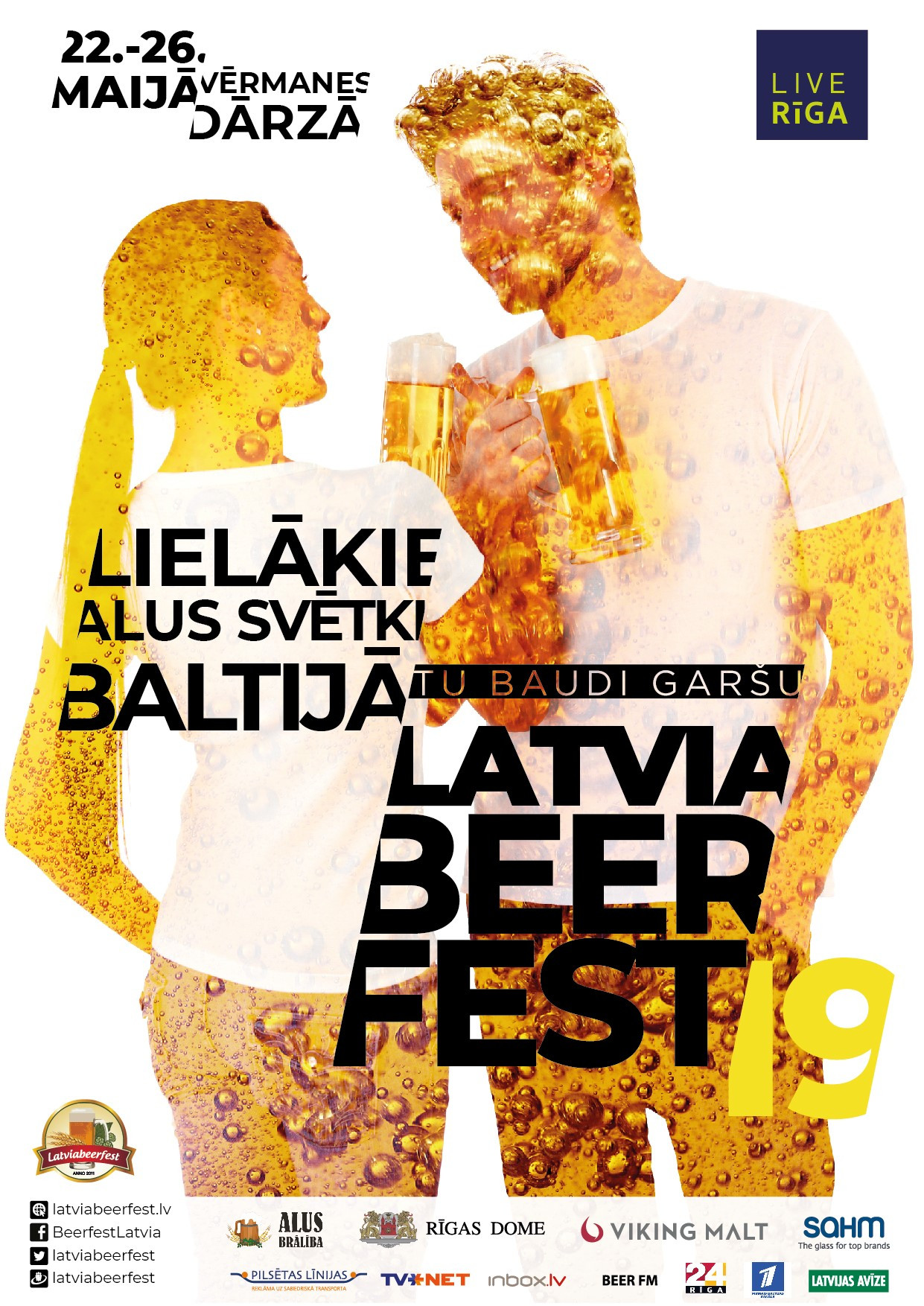 Trader Information
Iespēja izvēlēties sev piemērotāko tirdzniecības vietu - gan izmēra, gan cenas, gan piedāvātā sortimenta ziņā - http://latviabeerfest.lv/lv/daliba-festivala/ .
Pieejamas arī specifiskas zonas, piemēram, Bērnu zona, Amatnieku tirdziņš u.c. Pieejams mārketinga aktivitāšu piedāvājums.
Cenas, vietu izvietojums, dalības noteikumi un papildu pakalpojumu piedāvājums pieejams ŠEIT
Registration Dates
01.11.2018 - 02.05.2019