Lithuanian callendar of events. Create Yours account - add events, make Yours oun callendar, adds events to watch list, make notes, check registration dates and help Your bussiness to grow. Follow our Facebook accounts and get life information.
For orgasits putting event to callendar - total free.

Terbakrauskis Mugė
Tilžės gatvė 225, Šiauliai, Lithuania, Šiauliai
21.08.2020 - 22.08.2020
10:00 - 20:00
2020 m. rugpjūčio 21-22 dienomis (penktadienį ir šeštadienį) vyks kasmetinė mugė "Terbakrauskis", kuri šiais metais vyks lauke prie prekybos centro "Tilžė". Norintys galės prekiauti ir prekybos centro viduje.
Lauke bus įrengta pramogų zona su smagiomis veiklomis vaikams, atrakcionai, edukacijos visai šeimai. Vyks nemokamas koncertas.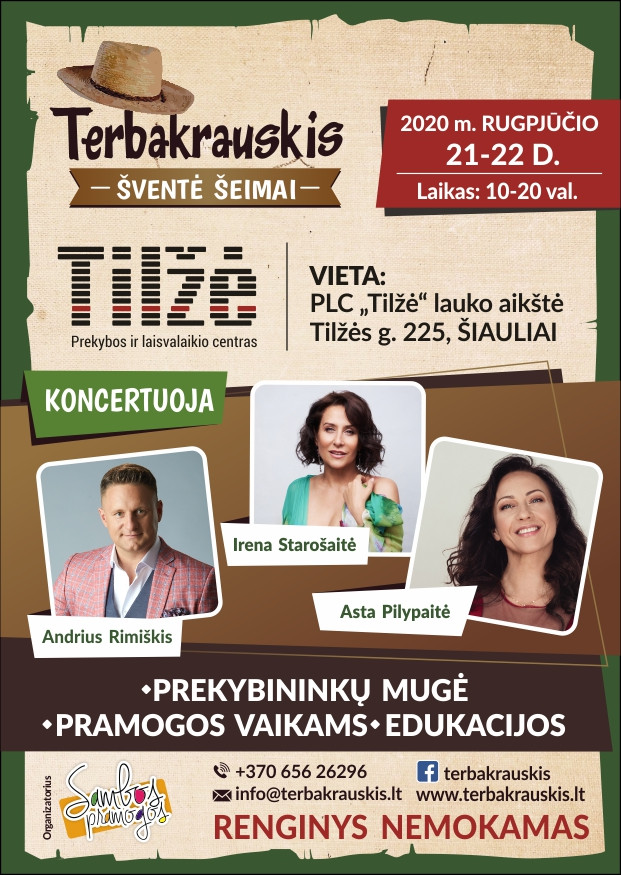 Registration Dates
21.07.2020 - 19.08.2020