Estonian callendar of events. Create Yours account - add events, make Yours oun callendar, adds events to watch list, make notes, check registration dates and help Your bussiness to grow. Follow our Facebook accounts and get life information.
For orgasits putting event to callendar - total free.
Hea Toidu Festival - Grillfest Ja Eesti Toidulaat
Pärnu Vallikäär, Vana-Tallinna, Pärnu, Pärnu maakond, Eesti, Pärnu
07.06.2019 - 08.06.2019
11:00 - 23:00
Võta plaani. 7.-8. juunil 2019, kl. 11:00 - 23:00 Hea Toidu Festivalile - Grillfest, sööma tulla.
Pole vaja reserveerida. Valida saad kümnete restoranide ja toidukohtade hulgast.
Lisaks saad head ja paremat kaasa osta samas toimuvalt Eesti Toidulaadalt.
Lastega pole ka muret. Selleks on olemas suur lasteala.
Võid saabuda kasvõi laevaga. Selleks on olemas kai.
Sissepääs on endiselt tasuta.
Hotellikohad soovitame broneerida kohe täna.
Vaata asja lähemalt https://www.grillfest.ee/saabumine-majutus
Vaata ka eelmiste aastate telesaateid: https://www.grillfest.ee/tere-tulemast/tv-video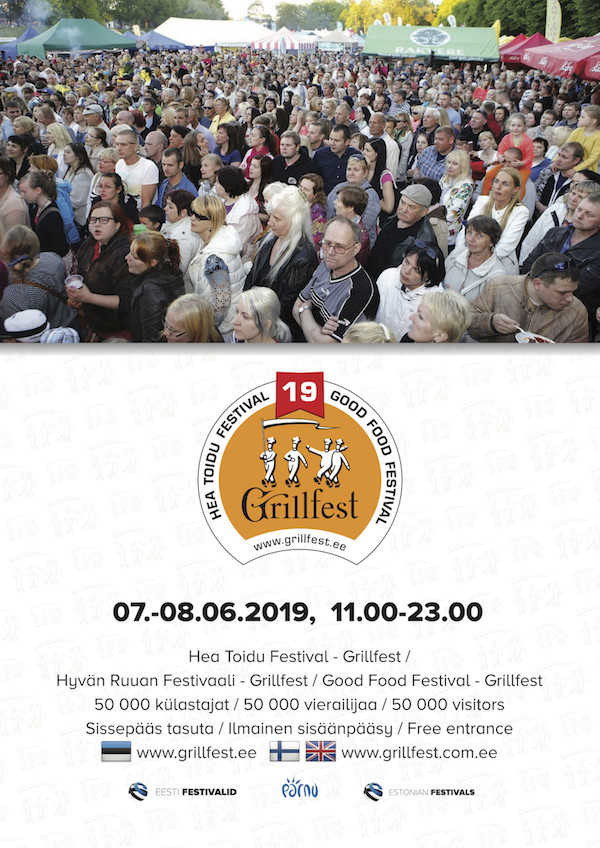 Trader Information
Kontakt kauplejatele:
Erkki Laidinen
Registration Dates
07.01.2019 - 03.06.2019
Company Information:
| | |
| --- | --- |
| 15.1 Company | Eesti festivalid OÜ |
| Address | Peterburi tee 2 Tallinn 11415 |
| Phone | 5515976 |
| Company Website | www.grillfest.ee |